THE RISE OF TWITTER IN THE LATIN AMERICAN LANDSCAPE: A STUDY OF THE MOST FOLLOWED ACCOUNTS IN BRAZIL, MEXICO, ARGENTINA, COLOMBIA AND VENEZUELA
Resumo
Abstract:
Several studies have concluded that two out of three Internet users in Latin America would be using at least one social network by late 2013. More concretely, there are more than 278 million Internet users across Latin America by late 2013, eclipsing the number of Internet users in both North America and Europe for the first time. This article analyses various reports from world-leading consulting brands in the context of Latin America. Currently, the fastest growing social network in this region is Twitter. We studied the fifteen most followed Twitter accounts in Brazil, Mexico, Argentina, Colombia and Venezuela to find out who own these accounts and what their social roles are (politicians, journalists or companies).
Keywords: Social Media; Internet; Broadband; Digital Journalism; Twitter; Latin America.
Resumo:
Vários estudos concluíram que dois em cada três usuários de Internet na América Latina estariam usando pelo menos uma rede social no final de 2013. Mais concretamente, são mais de 278 milhões de utilizadores da Internet em toda a América Latina até o final de 2013, superando o número de usuários de Internet na América do Norte e Europa pela primeira vez. Este artigo analisa diversos relatórios de consultoria de marcas líderes mundiais no contexto da América Latina. Atualmente, o mais rápido crescimento da rede social nesta região é o Twitter. Estudamos os quinze contas deTwitter mais seguidas no Brasil, México, Argentina, Colômbia e Venezuela para descobrir quem possui essas contas e que seus papéis sociais são (políticos, jornalistas ou empresas).
Palavras-chave: Social Media; Internet; banda larga; Jornalismo Digital; Twitter; América Latina.
Resumen:
Varios estudios han llegado a la conclusión de que dos de cada tres usuarios de Internet en América Latina sería utilizar al menos una red social a finales de 2013. Más concretamente, habrá más de 278 millones de usuarios de Internet en toda América Latina a finales de 2013, superando el número de usuarios de Internet en América del Norte y Europa por primera vez. En este artículo analiza diversos informes de las marcas líderes a nivel mundial de consultoría en el contexto de América Latina. En la actualidad, el más rápido crecimiento de la red social en esta región es Twitter. Estudiamos las quince cuentas de Twitter con más seguidores en Brasil, México, Argentina, Colombia y Venezuela para saber que son dueños de estas cuentas y cuáles son sus roles sociales son (políticos, periodistas o empresas).
Palabras clave: Medios Sociales, Internet, Banda Ancha; Periodismo Digital; Twitter; América Latina.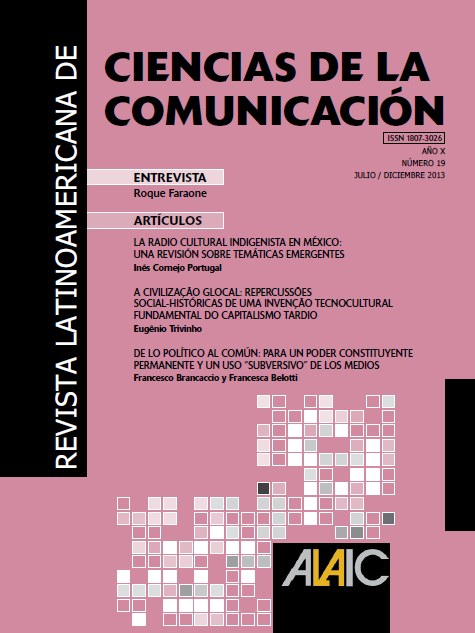 Downloads
Seção
Comunicações Científicas / Comunicaciones Científicas
Licença
Autores que publicam nesta revista concordam com os seguintes termos:
Autores mantém os direitos autorais e concedem à revista o direito de primeira publicação, com o trabalho simultaneamente licenciado sob a Licença Creative Commons Attribution que permite o compartilhamento do trabalho com reconhecimento da autoria e publicação inicial nesta revista.
Autores têm autorização para assumir contratos adicionais separadamente, para distribuição não-exclusiva da versão do trabalho publicada nesta revista (ex.: publicar em repositório institucional ou como capítulo de livro), com reconhecimento de autoria e publicação inicial nesta revista.
Autores têm permissão e são estimulados a publicar e distribuir seu trabalho online (ex.: em repositórios institucionais ou na sua página pessoal) a qualquer ponto antes ou durante o processo editorial, já que isso pode gerar alterações produtivas, bem como aumentar o impacto e a citação do trabalho publicado (Veja O Efeito do Acesso Livre).